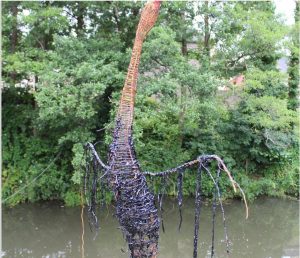 Resurrection
Reclaimed steel, copper wire, twine, rope, tar, scrim, netting
This piece was originally created for the Secret Swans Art Trail, an event held recently as part of Frome Festival and to celebrate Black Swan Art Centre's 30th anniversary this year.
'Black Swan' is a metaphor for the impossible becoming possible.  This piece is about hope, endeavour, yearning, striving for truth, purity ('we will never know everything'), freedom from constraints, environmental pollution.  Swans represent love, which 'conquers all', symbolised by the crucifix.
Fiona uses mainly reclaimed and found materials in her sculptural work – universal forms in an apparent state of emergence, growth or metamorphosis.  Awards include the Environmental prize, Devon Recycled Sculpture Trail, Atkinson Gallery Summer Prize and David Shepherd's 3d Wildlife Artist of the Year.   Fiona led 'step in stone' (artscapes in Mendip quarries) and recently created a woven canopy for a Chelsea Flower Show garden, which won gold and best artisan awards.
£1500