Welcome to TRAIL 2015, we are hoping to have a fabulous TRAIL this summer and we are already getting lots of interesting entries to this year's sculpture trail.
We have funding to create community sculptures through artist led workshops with Hazeldown, TCS Mill Lane Schools and Kingsway Youth Group and we hope to be able to offer more artist led workshops which we are aiming to fund through our crowd funding site 
We have a scrap heap challenge aimed at schools and young peoples organisations – with £100 prize for the best sculpture in this category and the Brownies, Guides and Scouts will all be joining us. To find out more about this part of the project please visit the artist page of our website 
We have already had our first international entry from Klaus Pinter in Austria, to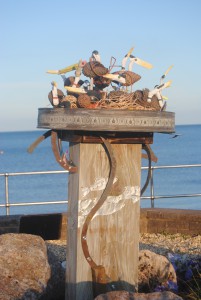 see more of his work check out his website here. We also have entries from artist
s closer to home and we are very pleased to welcome Martin Curley  from Totnes who has a blog where we can follow the progress of his work for TRAIL  click here to take a look.
A few miles down the road in Starcross there is a plan to make a sculpture for this year's show and you can find out more on their blog click here (and to join the artist team leave them a comment on their blog)
Rowcroft Hospice Charity Shops are joining us and we will be making a sculpture from items that were too broken/not fit for sale in their shops.
Everyone is welcome from local community groups to world famous artists! To get the artist brief please click here and come and join us on the seafront. Its free to enter and we will have various awards with cash prizes for the most popular sculptures, more details to be announced soon