TRAIL is thrilled to announce we have be selected for the Tesco Bags of Help project!
Tesco teamed up with Groundwork to launch its Bags of Help initiative across England and Wales. The scheme sees three community groups and projects in each of around 200 Tesco regions awarded grants of £5,000, £2,000 and £1,000 – all raised from the 5p bag charge.
Bags of Help offers community groups and projects across the UK a share of revenue generated from the 5p charge levied on single-use carrier bags. The public will now vote in store throughout March and April on who should receive the £5,000, £2,000 and £1,000 awards.
Please vote for us in the local participating stores so we can fund workshops with schools and community groups and fund the running costs of the sculpture TRAIL! Teignmouth Express Tesco is one of the participants along with the Kingsteignton, Torquay and Newton Abbot stores.
BARTON TORQUAY EXP TQ2 8HW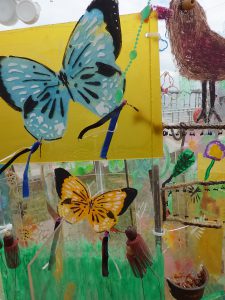 KINGSTEIGNTON EXPRESS            TQ12 3AJ
NEWTON ABBOT              TQ12 3RN
PAIGNTON METRO          TQ4 5DL
TORQUAY METRO            TQ1 1DB
TORQUAY EXPRESS          TQ1 4RY
BOVEY TRACEY EXP         TQ13 9AB
TEIGNMOUTH EXPRESS TQ14 9DD
PAIGNTON TORQY RD EXP            TQ3 2EZ
TORQUAY LYMINGTON EXP         TQ1 4AQ
BRIXHAM EXP    TQ5 8DX
KINGSBRIDGE    TQ7 1QN
TORQUAY BABACM RD EXP          TQ1 3SN