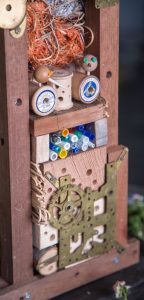 I create work that is functional and fun and choose to use recycled materials as this tackles some of the environmental challenges of our time.
Our gardens are home to a wide range of living creatures. An average garden could hold over 2,000 different species of insects! With all this diversity of life it is good to know that very few creatures cause significant damage. By providing habitats we can greatly increase the number of beneficial insects in the garden, and they will repay you by helping to control pests and pollinate your plants.
Be inspired, have a go and give nature a home.