We slammed metal and wooden posts into the ground, and covered 4 of them with plastic fishing-rod cases. The front is wire-based which we can peg into the ground. Peacocks' Tails were made by the children from Starcross Primary School for the Peacocks' Tails' History Trail on St George's Day. These tails have been incorporated into one BIG TAIL. The peacocks' eyes are wired on to the blue scaffolding netting. The individual peacocks' tails have been also wired onto the blue scaffolding netting.
Since all is on netting, there will be little windresistance, except to the blue skirt but this is designed to blow about in the wind
The  peacock chick is based on a painted car tyre (which was part of Melissa's 2015 exhibit). The tyre can be pegged down.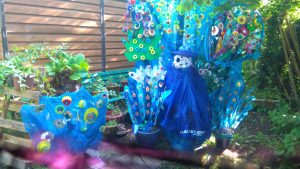 Captain Peacock and Son – The Starcross History Group
Captain George Peacock was a Victorian adventurer and inventor who retired to Starcross. He built a maritime folly  – The Swan of the Exe – which was moored off Starcross pier, and survived until the 1960s.
This year we had a Peacocks' Tails' History Trail around places of historical importance in the village. Children in Melissa Muldoon's Peacock  Club at Starcross Primary School made peacocks' tails from recycled materials; which, with 2 more tails made by Messy Church in St Paul's;were recycled AGAIN into a scarecrow for Starcross Scarecrow Day AND recycled AGAIN into this TRAIL exhibit. Read all about it on http://starcrosshistory.blogspot.co.uk/