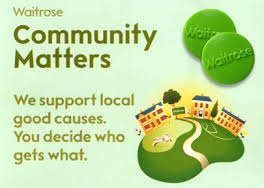 Waitrose Teignmouth have kindly placed us in their Community Matters Token collection this month.
Please help to support TRAIL by popping the green token you are given at the counter of Waitrose Teignmouth into TRAILS token collection box near the exit of the shop.
Each token goes towards a higher donation of funds from Waitrose Teignmouth to TRAIL, funds help TRAIL grow more prominent each year and allows us to engage with more people helping us to share and work together on spreading the message of environmental matters through art, events, activities, workshops and many other ways.
We would like to thank you in advance and thank Waitrose Teignmouth for their continued support.