TRAIL started out as annual exhibition event and our sculpture trail goes from strength to strength. But, as the climate crisis has become more pressing and the science clearer, we have found ourselves engaged more and more in learning, education and collaboration with partner agencies on a year-round basis. Art and particularly sculpture remain at the heart of all we do, but over the years the TRAIL artists' collective knowledge around environmental issues and how to make art from recycled materials, has given us a unique set of skills that are increasingly in demand, outside of our annual exhibition.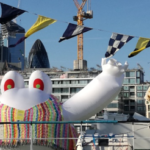 In 2018 TRAIL embarked on a collaboration with the Marine Conservation Society (MSCUK) and Environment Agency (EA) to get local businesses to stop using single use plastic straws. This project culminated in a large inflatable sculpture made from used plastic straws collected in Teignmouth. Slurper the Straw Monster was launched at The Commonwealth Summit in London, to the 52 Commonwealth Heads of State.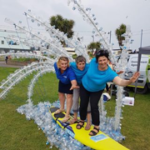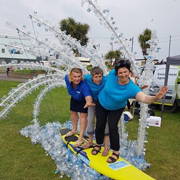 Following this, we made a Surfer Selfie Wave from the 3000 discarded plastic bottles from the Exeter Half Marathon, in collaboration with the Environment Agency. This was a live sculpture event, with the public helping us make a tunnel wave, as part of a community day on The Den. The sculpture then went on to be exhibited around the South West at other EA events.
The more we were learning about plastic from our partner agencies the more concerned we became. Taking up the challenge from MCSUK we began working towards reducing single use plastic in the town and reducing the plastic waste our town produces.
There were various roads we could go down at this point. The more we learned about plastic, the more we realised that there was no one simple solution – no golden bullet to deal with the tonnes of plastic we are consuming as a society.
Armed with a passion to make a change, we decided to get ourselves an education in plastic! We researched many avenues and decided to become trained as Ecobrick Trainers with the Global Ecobrick Alliance and to open a Terracycle point. We pursued these options in the hope that educating consumers on single use plastic would in turn exert consumer pressure on businesses to change the products and packaging they sell.

Terracycle is an industry led system where community groups collect hard-to-recycle single use plastic (crisp packets, pet food pouches, toothbrushes and so on) and send this to specialist recycling plants to be turned into useful items. The idea is that it hands the plastic problem back to the manufacturer to solve, whilst raising money for local good causes.

Ecobricks use clean, dry, plastic, tightly packed into plastic bottles, to create building bricks. This is a community led initiative that uses a workshop to teach people all about plastic and how to make these bricks correctly. The bricks are not useful if they are not correctly made. It is all about personal responsibility and looking deeply at your personal plastic consumption.
Our friends and colleagues at Dawlish Against Plastic (DAP) have chosen the Surfers Against Sewage business pledge system where businesses pledge to reduce plastic consumption, and we are following this initiative with interest. As we stress, there is no one answer to plastic and we hope to learn from DAP's findings alongside our own.
We were grateful to receive a Teignbridge Communities Together grant of £2000 and our plastic redemption project was underway!
Once Sam Lock and Amy McCarthy had completed the Ecobrick Trainer Course, we started providing plastic reduction workshops in Teignmouth, open to the public. We have organised numerous well attended workshops in St Michaels Church, TAAG, Teign Heritage Centre and Teignmouth Town Hall. We have reached the WI across the South West region, Teignbridge Staff, Teignmouth Community School, Mill Lane School, Town Councillors, business owners, and the public in general, in our free workshops.#

Our plastic reduction workshops focus on the main plastics we are consuming which are recyclable, and how we can reduce our plastic waste and take personal responsibility for the waste we purchase.  Participants collect 2 weeks of their non-recyclable plastic waste, and bring this, cleaned and dried, to the workshop. We begin with a presentation about the different kinds of plastic, why we use it and what becomes of it after we have finished with it, from recycling to how it degrades in sunlight. Over the course of the event we cut the plastic up very small and pack it into plastic bottles. These bottles when packed tight can be logged on the international website and used as building materials. As of January 2020 we have nearly enough to make a large sculptural raised bed in the school garden combining Ecobricks with traditional cob as the cement. We aim to complete this project with the STARS students in the Spring (alternative learning department for children who struggle with mainstream teaching).
We took the workshop to TCS Secondary School and TCS Mill Lane and taught 250 of the students the process. We then trained 5 of the secondary school students to present the workshop themselves and they presented it to school wide assemblies and to the teachers of the school on inset day. We were so proud of the students' achievement and have established a Green Team at the Secondary School. We meet weekly and are working towards making the school a Keep Britain Tidy (KBT) Eco School, looking at all aspects of the school environment. This group is for teachers as well as students and is a wonderful way to bring the school together to work towards goals that benefit everyone.
Over the course of 2019 we sequestered over 80 kg of non-recyclable plastic into Ecobricks, and considering how light plastic is, this is a real achievement. But more importantly, we discovered that the workshop itself, not the Ecobricks, was our most powerful tool. Confronting people with their own waste and the huge environmental cost of convenience packaging means everyone who attends our workshops leaves a changed person. They are all thinking of alternatives to plastic and that is our ultimate aim.
Alongside this, we also set up a Terracycle point at TAAG, with the money we raise from collecting the plastics going to fund the Green Team at the school. Terracycle relies on volunteers collecting separated hard-to-recycle plastics and Terracycle then ship these sorted plastics to specialist recycling centres and make useful items like benches from them. We signed up to various streams of the project. As corporations pay into Terracycle to deal with their waste, the things that are collected are at the discretion of the corporations and include crisp packets, toothbrushes, pet food pouches, chocolate wrappers and more.
We had our recycling point open for a full year and we sent over 100kg of plastic to Terracycle and earned over £80 for the school in the process. We have had to close our recycling point now due to the refurbishment of TAAG.
Both Ecobricking and Terracycle have advantages and disadvantages. Ecobricking is great for learning about personal responsibility and confronting one's own waste. The bricks are time consuming to make and force us to face up to the consumer choices we are making in the name of convenience. However, many people are making bricks who have not attended our workshops and dropping off poorly made bricks that cannot be used. And what of that end use of good Ecobricks? The movement started in South East Asia where the sheer volume of plastic (and lack of funds for construction using conventional building materials) make Ecobricks an excellent idea. Things are not so clean cut in the UK where we have good recycling facilities. Could Ecobrick builds get through building regulations? Is this a useful way to use plastic? We look forward to building with our bricks and seeing how the structure weathers. Time will tell.
Terracycle is even more problematic. We had to collect and store large amounts of rubbish – 5 kg was the minimum that could be sent to Terracycle and this then went up to 7kg. With a crisp packet being 3 grams, that is a large volume of plastic! Items like pet food pouches are smelly if not scrupulously clean. The biggest problem, which we weren't expecting, was that the public were ignoring our very clear signs about which plastics we were collecting and just dropping all their soft plastics off to us. This left our volunteers with lots of extra waste to dispose of themselves.
In general, our main concern with Terracycle was that people were not changing their personal behaviour. For example, instead of changing to tins of cat food they continued using the pouches. It just doesn't challenge the behaviour. There is no onus on purchasing alternatives to plastic, nor for producers to invest in better packaging. TRAIL and other partner agencies we speak to are also not convinced that this collected plastic is not just being shipped abroad. It certainly isn't being processed in the UK and this raises concerns that there is a good deal of 'green washing' from corporations, using the best intentions of the Terracycle principle to avoid having to change their packaging, whilst looking like they are being responsible.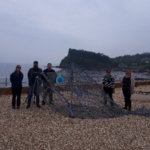 In addition to this work we also hosted the UK's first Seaside Scavenge event, had stalls at local music festivals and handed out hundreds of reusable cloth bags. We made sculptures for Ocean Recovery Project highlighting plastic pollution in the fishing industry and have a permanent fish sculpture/bin on Teignmouth seafront for plastic bottle recycling. This 3m x3m sculpture was emptied this autumn and thousands of plastic bottles recycled.
What is next for 2020?
TRAIL will continue to work with the schools in the area who wish to become more eco-friendly and remain strong advocates of the KBT Eco School Programme.
Our Terracycle point will remain closed. We will continue to signpost to other collection schemes. However, our own scheme was very labour intensive, unpleasant to sort and hard to store, and we simply do not have the facilities.
We will continue to offer plastic reduction workshops; using the structure and knowledge of plastic that the Ecobrick training has given us, and our knowledge of Teignbridge's diverse recycling services, which we promote and clarify in every session. We have discussed working with our partners at Ocean Recovery Project and Teignbridge, about ideas for this year's sculptures that can really combine personal responsibility with putting pressure on corporations to rethink a concept of convenience which does not involve throwing something 'away'.
We intend to support and train WI representatives across the area to deliver our plastic reduction workshop and we will assess whether to continue Ecobrick collection when we complete our first built structure in the Spring, and have a chance to assess the viability of this first hand

From numerous litter picks and talking to businesses we have found fag butts are a huge source of litter in the town. So, we are focusing on cigarette butt litter around the town in 2020. We are working with Teignbridge to host a fag butt specific litter pick in March for the KBT annual town clean ups, including spraying 'only water down the drain' on drains outside pubs and cafes, providing establishments with bespoke cigarette butt bins and having a big fish tank outside the resort office on the seafront to show how many cigarette butts we are keeping out of the environment.
In addition to this, we intend to work towards sculptures with numerous Teignbridge schools.  We have already agreed workshops with South Dartmoor College to help them make a city of recycled plastic houses and have been invited to be part of the Exeter Cathedral Green Communities Festival in February.