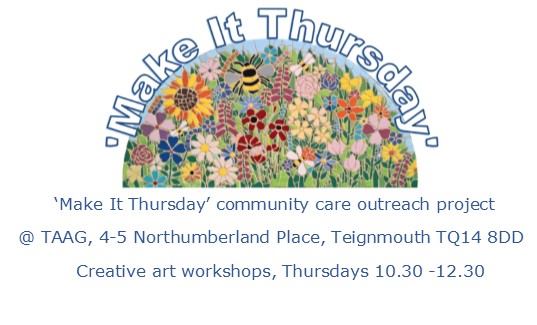 Hello and welcome to the Make It Thursday Page, my name is Sam and I co-lead the MIT group with my colleagues Rose, Geraldine and Liz.
This page has been created in lieu of our physical weekly meets and is where you will find weekly updates on what we have been up to with our time at home, pictures of our ideas, creations and achievements, instructions and videos on how to make easy crafts from things you can find around the home.
If you would like to add anything to the page,
please email us at : mit.trailweb@gmail.com
Check back regularly for more.
Scroll down the page to see previous uploads.
Monday 20th April
Good monday all, I hope you are all well and behaving yourselves he he, I have received some messages as below of what people are upto, don't forget to email me your pictures so I can share on the page. Well wishes to all, Sam
Sue says,'My seeds are coming up at last! Also I've finally framed the tulip picture Geraldine'
Friday 17th April 2020
Hi all, I hope you are all well and keeping yourselves out of mischief, haha. My apologies that this page has taken me longer than I had hoped to get off the ground properly. I have now finished at the food bank, the original staff are now fit and well enough to come back to work so I can now concentrate on more MIT, TRAIL Devon Learning Recovery and my own studies.
Brenda wrote in saying that unfortunately she doesn't have a camera to take pictures of her achievements but wanted to let everyone know she is doing well and is getting out daily for a walk on the seafront, she is also having lots of thoughts of housework, but thinking is as far as she has got. Brenda also said that she is going to be trying a Polish meal she has picked up from Lidl, she will be letting us know soon what it was like.
Clare has been tremendously busy and again I can only apologise it has taken me so long to upload all of this. From crafting cards to pressing flowers, Clare certainly has been a busy bunny.
Vicky and Christine have also been busy little beavers too, making soup, cooking, decoupage, card making and probably lots of other things too