Every year TRAIL artists run many recycled art workshops at Schools, town events, festivals, farmers markets, craft fairs, galleries, community centres, museums and at other events. As environmental artists we love this engagement with the public and use each opportunity to convey important environmental and pollution messages.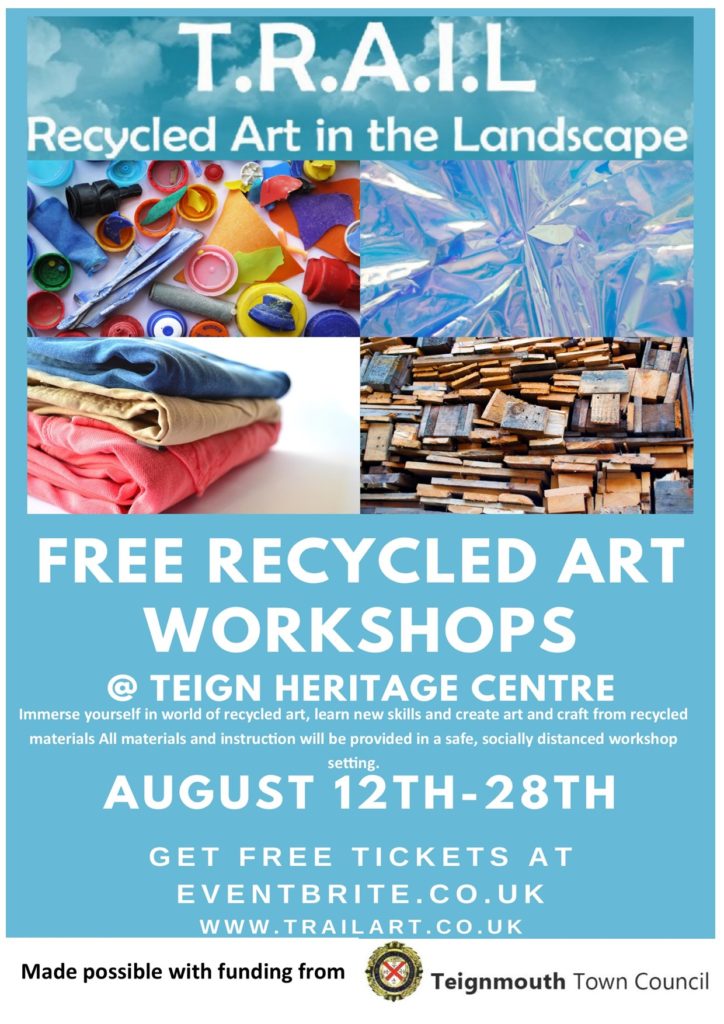 FREE recycled art workshops led by TRAIL artist Sam Lock. A great family activity funded by Teignmouth Town Council
TRAIL- Teignmouth Recycled Art In Landscape, invites you to join us at our annual summer recycled art workshops at the Teign Heritage Centre, Teignmouth
Immerse yourself in the world of recycled art, learn new techniques and create amazing art and craft items from recycled materials.
All materials and instruction will be provided in a safe, socially distanced workshop setting.
Each session will be led by TRAIL artist Sam Lock. Sam is a creative workshop leader, TRAIL organiser, leader of environmental community group TeignVironment and MIT. She is a steering member of TAAG , Devon learning community tutor, recycled artist and miniaturist.
A maximum of four groups per session will be in the workshop and each group may have up to 6 people.
Ticketing: Please book one ticket (table) per group of up to 6 people.
Only 4 tickets (tables) are available per session.
Click here to book tickets now, only one ticket is needed for 1-6 people.

The Teign Heritage Centre will be open from 21st August, click here for more information.
Sam Lock @TRAIL HQ