Really pleased to have our new collaboration with Ocean Recovery Project  and Teignbridge Council installed on the seafront at Teignmouth, right by the lighthouse.
TRAIL were asked to create a massive sculptural bin for recycled plastic on Teignmouth promenade. Originally we were going to make a seagull, but as always with recycled materials, if they tell you they want to be used differently its best to listen and a fish shape quickly came together out of the pile of junk!
Rodney is over 4 metres long and – as his name suggests- is made from broken and discarded fishing rods with a broken rusty old swing set mouth and chicken wire salvag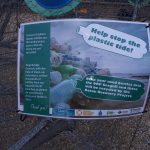 ed by Teignbridge Recycling Centre. Over the summer he will gobble up the public's  plastic bottles and marine waste; the Ocean Recovery Project will take them away and recycle them. His mouth is quite small to keep the gulls out and the rubbish in.
Please use him to put your used single use plastic bottles in.
But what would be even better is to consider bringing a reusable bottle with your on your day out. You can refill it for free at the water point outside the resort office instead of adding to the 37.5 million single use plastic drinks bottles the UK uses everyday. REFUSE, reduce, reuse, recycle.