Welcome to
Teignmouth Recycled Art In Landscape
TRAIL is a voluntary artist led organisation raising awareness of  environmental issues through art and education.
Established since 2005, TRAIL continues to give professional artists, schools, community groups and amateur artists the opportunity to create and exhibit large scale art works for an outdoor environment.
TRAIL website brings you links on current events, issues and new findings on an environmental, recycled and education theme, that help us to improve environmental
awareness.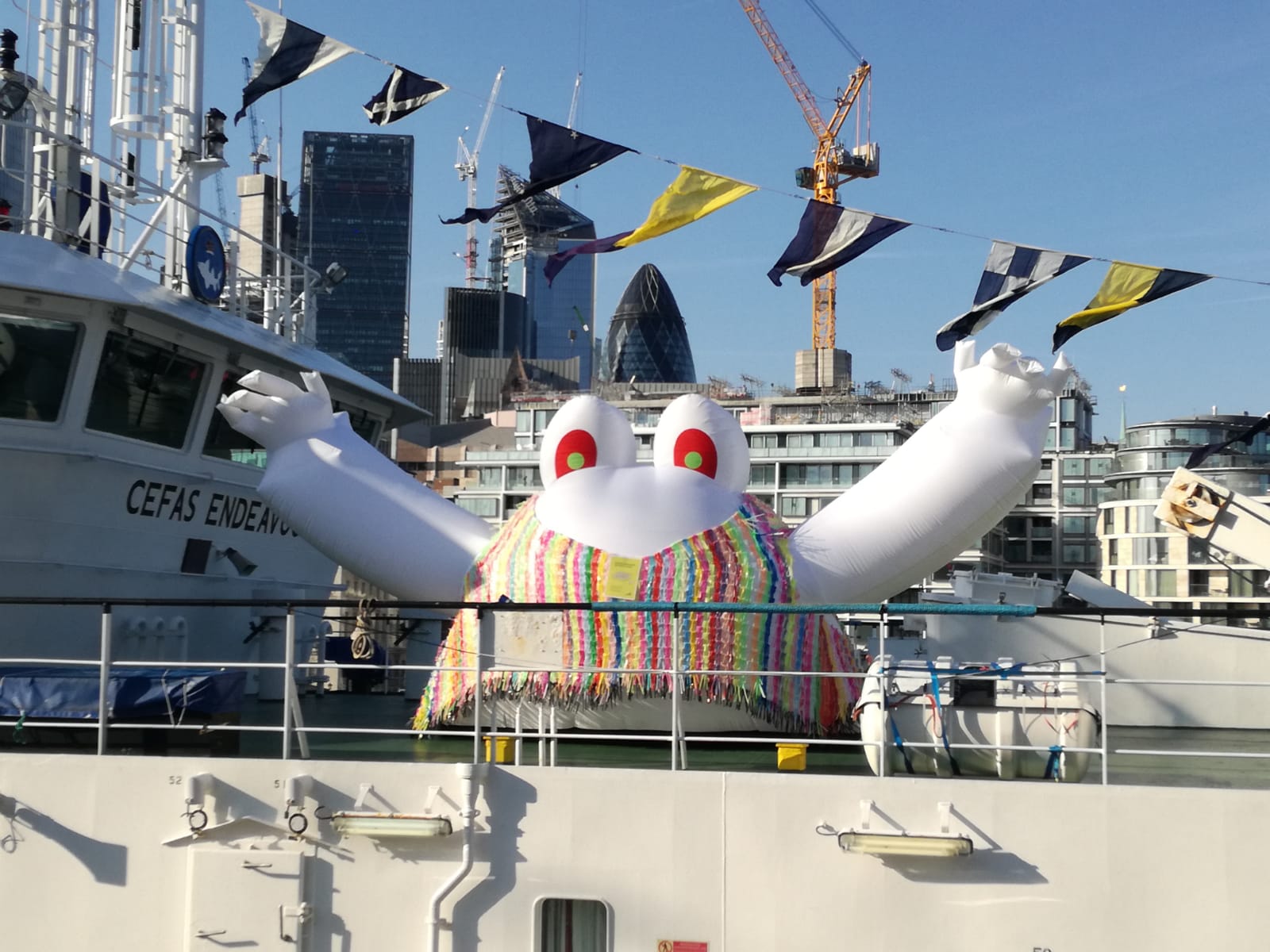 TRAIL 2018 
TRAIL's 14th outdoor sculpture TRAIL will begin on 22nd July. Take an enchanted walk along the seafront where the sculptures intend to; captivate, charm, delight and enlighten us all on varying environmental issues.
#TRAIL 2018 Map and Artists
for more information, voting link and gallery of sculptures click here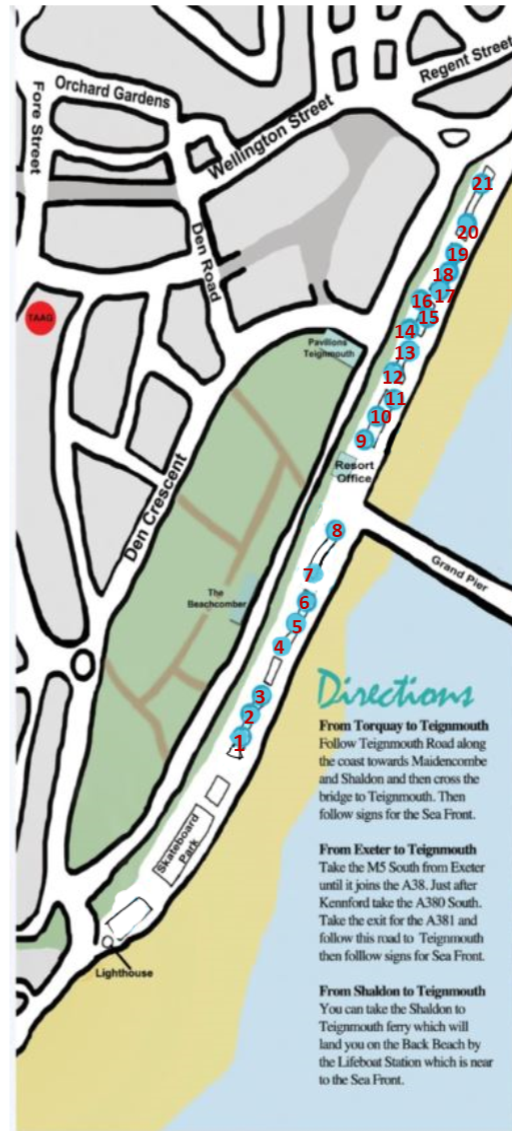 1. Deborah Frith

2. Deborah Frith

3. Alison Theaker

4. Co0ordin8 and Aliyway Scrapstore

5. Teignmouth WI

6. Our Lady & St Patricks School

7. Stover School

8. Malcolm Curley

9. Malcolm Curley

10. Jane Melling/Teignmouth Traders Association

11. Teignmouth Community School

12. 1st Teignmouth Girls Brigade

13. Refurnish (Restore)

14. Charlotte Yeo

15. Julia Vella

16. TeignVironment

17. Janec Van Veen

18. Montgomery School

19. Waitrose Art Collective

20. Starcross History Group

21. Melissa Muldoon & Friends
oting is now open, for more details on the artists and sculptures that make TRAIL 2018 check out the TRAIL 2018 Artist page
Remember to vote for your favourite, thought provoking sculpture either here, at the Resort Office, Pavilions or TAAG Arts & Community Centre
For more event information check out our events and what's on page. New information and events are added all the time so make sure you keep checking!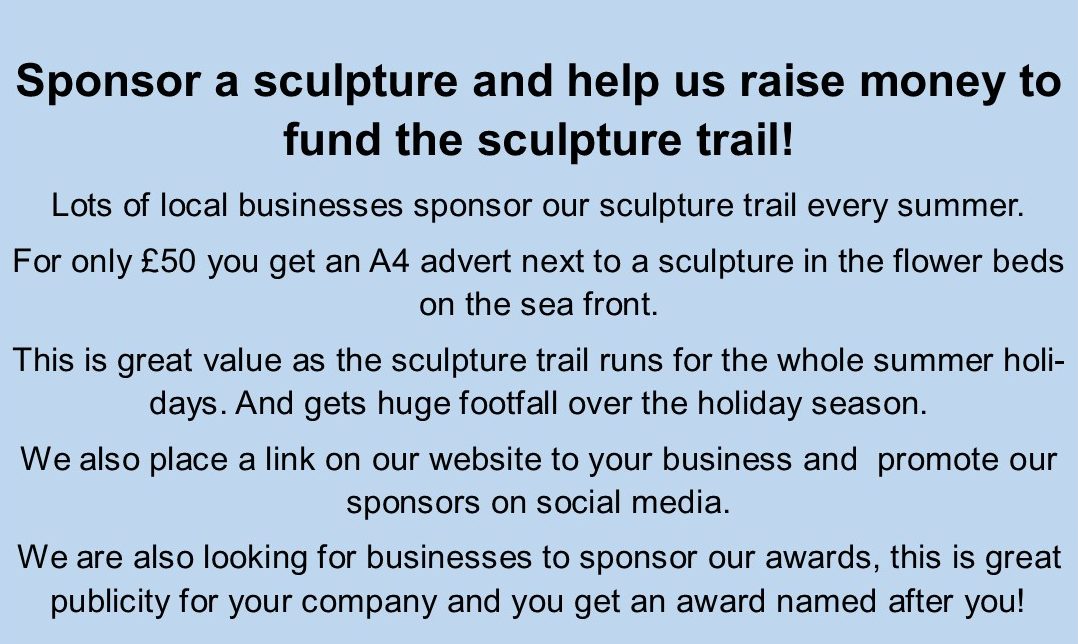 For more information on sponsorship or volunteering with TRAIL please contact us at trailartuk@googlemail.com
 TRAIL 2017 was another year of  success, with thanks to all the businesses, volunteers, public, artists, community groups and TAAG 
Thanks also goes to

who place us in the Community Matters green token boxes and also for their ongoing support of our event.
A full list of businesses that have supported TRAIL 2017  is available to view at the bottom of this page
TRAIL is powered by volunteer staff 
Our warmest thanks goes to all the businesses and organisations  that donate time and money  to help us produce this event.
TRAIL 2018 Sponsors