Gail Marshall
Monsters from the Deep
Fabric Artist, Fashion and Product Designer
Hospital waste is a real problem.
Personal Protective Equipment Sterile Wraps and Theatre Set Sterile Wraps are all discarded from our hospitals in huge numbers. In that light, These fish have been created to draw attention to how much waste is being produced. This washing line represents one day's waste from one operational theatre.
Gail Marshall is a well-travelled and experienced sewing machinist. Sewing products from wedding dresses and fashion collections to rugby scrum caps and military flak jackets.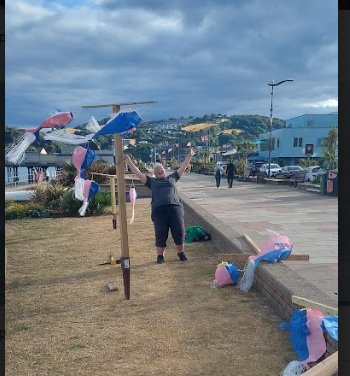 Trail 22
gayeilston@gmail.com Gaye Ilston 07549173971 The Loft, Southernhay, Teignmouth TQ14 9JS
Artist proposals for the Site-Specific Sculpture Trail on the South Devon Coast at Teignmouth.
Inflatable Canoe
The sculptures will be constructed from more than 70% recycled material and will address concerns relating to recycling with weatherproof features / suitable fixings
Submissions by email, please label each attached document with your name and Trail 22.
The proposed sculpture will not be blown up but stuffed. Internal House bricks will be used to weigh it down
There maybe a seated figure made of lilos, so may be taller than normal canoe height, width and depth
I am using my inflatable that I have used once but was unable to control on the river in Teignmouth. My inspiration is
How to recycle summer inflatables
The sculpture highlights recycling of inflatables,made from plastic PVC, unfortunately one of the hardest plastics to recycle and our leisure toys often end up in the sea or in a landfill.
The plastic recycling symbols
There are seven specific RIC codes, including:
Polyethylene Terephthalate (PET) typically including drinks bottles and cups.
High-Density Polyethylene (HDPE) including bottles, cups and milk jugs.
Polyvinyl Chloride (PVC) including rigid plastics like pipes and tubes.
Low-Density Polyethylene (LDPE) such as beer six-pack fasteners and plastic bags.
Polypropylene (PP) used in food containers and some plastic car parts.
Polystyrene (PS) again used to hold food, drinks cups and some plastic utensils.
'Other' – A general purpose category for acrylic, nylon and other plastics.
As a useful rule of thumb, the lower the number, the more likely it is that a particular plastic product can be recycled, and both RIC codes 1 and 2 are among the most commonly recycled materials.
My sculpture would have an informative poster including the above info and also explaining What could be done with unwanted inflatables
Repair it with duct tape as soon as you can.
Gift it to someone who will enjoy using it.
List it on a site such as eBay or Freecycle. Send it for upcycling. Some places are collecting creating accessories such as bags from a wide variety of inflatables — from pool floats to bouncy castles.